Th
is is where Shannon and I (Andrew) keep our stuff on the internet.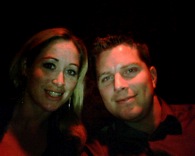 Shannon and I met in a Lucky's grocery store in October of 1999 while we were both going to UC Davis, and since then we've been inseparable.  After dating for four years we got married in September 2003 on the beach in Pacific Grove, California.
Currently we're in San Jose, CA while I work at Google and Shannon works as a Nanny for two smart little buggers up in Livermore.
Why not check out some
photos
that I've taken.